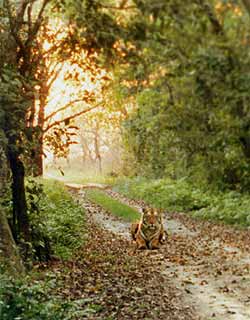 THE LEADERSHIP TEAM
BOARD OF DIRECTORS
Peter Byrne founded International Wildlife Conservation Society in 1968 after turning his hunting concession into a protected wildlife reserve. He serves as the volunteer Executive Director and has dedicated his life to supporting the reserve and the villagers in the surrounding community. Peter's bio is the length of California so we'll dedicate more space for your viewing pleasure on our Founder page, or please visit his website at: www.petercbyrne.com
Cathy Grifin is an executive search consultant (www.griffinnetwork.com) and career coach (www.ownyourowncareer.com) and joined the IWCS board after making her first trip to the jungles of Nepal in 1995. She later accepted the role of Treasurer. She holds the honor of serving as the first sighting of a female driver in the jungles of Nepal by villagers in the Terai on the edge of the Sukila Phanta Reserve when she helped lead the Water for Wildlife project with Peter Byrne.
Leonard "Skip" Fink is an attorney with a broad background in international law and ventures, including work in Europe, Africa, Iran, and Russia. He came to Washington to work for NASA and then the Peace Corps in its formative days. He met Peter Byrne in 1967 and helped him establish International Wildlife as not-for profit-organization in 1968. Skip has continued since then to serve as a Board Member and a valued IWCS "consigliore". He and wife Amelia. a fashion designer, live in Washington DC.
BOARD OF ADVISORS
Tom Dadras holds degrees in both architecture and computer graphics and is the man behind the society's website. Tom works in the computer animation area of the entertainment industry. Drawing on his experience in this area, he has been able to help provide IWCS supporters with a broad and detailed knowledge of the work of the Society. Tom lives in Marina Del Rey, California and like some of the other members of the team, has taken part in a discovery field trip in the WGP. Having adventure in his bones, IWCS is a natural for Tomís volunteer efforts.
Jane Galbraith is our political, media and communications guru while leading this area for City Councilman Tom LaBonge in Los Angeles. Jane juggles her invaluable input to IWCS with being the mother extraordinaire to twins Frances and Marshall. She, husband Marty and family live in the Miracle Mile area of Los Angeles. Jane launched our matching gift program in 2004 by reaching out to her incredibly generous network. Riding an elephant is in her future.
Holli Hines Easton is our East Coast Enthusiasm Consultant having assisted the Society with numerous fundraisers including one she, husband Ian and friend Karen Gough hosted at her husband's restaurant in Atlanta. Appropriately nicknamed "Gidget", her creative energy helped lead our holiday fundraiser pashmina sales to record success. Gidget is also a big supporter of the IWCS Education Program. Gidget and husband, Ian, live in a wonderful loft in Atlanta, Georgia.
Karen Gough is our resident Florida advisor having returned to Palm Beach Gardens in 2007 after a stellar career at Coke, Earthlink and CIBAVision in Atlanta. Karen contacts and resources are critical to IWCS as she helps us make new contacts and bring IWCS to new heights. An animal lover, Karen is learning that the wildlife world is a little bigger than her home turf with "Bailey" and that camping out is nothing like a four star hotel.
Hikmat Bisht is our Nepal in Residence advisory member as he was born and raised in the country and met Peter Byrne during Peter's development of the White Grass Plains Wildlife Reserve. Hikmat previously worked in Washington DC where he was Military attache in the Royal Nepal Embassy for USA & Canada. He helped launch the IWCS education projects identifying the needs in the town of Manhendranagar. His entire family: wife Shanta, Daughter Sangita Bhandari and sons Sashi and Santosh, contribute generously to IWCS. Hikmat's former safari camp, Silent Safari, is noted in many Nepal tourist books.
Rara Byrne is the youngest member of our advisory team and is currently enrolled in her senior year at Portland State University. Rara has been to Nepal numerous times including the Tula Hatti expedition for the search of the largest elephant in Asia, when she was four. She has the honor of being named after Rara Lake which is in Northwestern Nepal. A love of travel in her genes, Rara hopes to determine how to save the world when she graduates from college.
TECHNOLOGY ADVISORY BOARD
Kent Estep can best be described as a computer wizard and animation specialist and as such has come to the aid of the society countless times when the gremlins of the cyber world have sneaked into our computers. He has provided endless assistance and out-of-hours consultation. He has been on a discovery field trip to the WGP with Peter Byrne and plans to return as soon as his workload allows. Kent lives in the Marina Del Rey area of Los Angeles and works in computer animation with the Sony Corporation.
Rick Austin has been a stalwart supporter of the society for many years. He has proposed a solar-powered, radio-operated video monitoring system for the new research center and will arrange for installation as the conservation lodge and research center is near completion. Rick has been part of a discovery field trip and camped in the WGP with Peter Byrne. His father Dick provided GPS services and observation from Hilton Head, SC. Rick lives in Sierra Madre, California and works with the Boeing Corporation.
Austin Bordeaux is the technology entrepreneur in residence for the society and one of the first to volunteer his expertise for our work. He is an engineer by profession with a background in the world of computers and as such has always been of great assistance with any of the technical problems that have arisen with the society's technological apparatus of phones, faxes, computers and printers. Austin spends part of each year in Italy as volunteer teaching English from where he keeps in close to touch by email. When not overseas, he lives in the Brentwood area of west Los Angles, from where he is a frequent visitor to the IWCS Executive offices.
MEDIA ADVISORY BOARD
Nancy Moon's love of adventure and wildlife led her straight to her volunteer efforts for the Society. Nancy, well networked in the media field is the eyes and ears for articles on our conservation efforts and for our Executive Director, Peter Byrne, to tell the world about our cause! Nancy juggles her life in CT with husband, Steve Gordon, with her public relations business, www.moonandcompany.com, in Union Square in New York City. She shares Florida State University Alumni status with Cathy Griffin and Karen Gough.
FINANCIAL ADVISORY BOARD
Paul D. Bornstein of Paul D. Bornstein, CPA, LLC, in New Jersey, offers input and guidance on the appropriate IRS regulations that govern the IWCS 501 C 3 status. Father of four and most recent grandfather of one, Bornstein has prepared over 10,000 returns during his 38 years in the public accounting business. Paul met Cathy Griffin when she went to his offices over 20 years ago, with a shoebox full of receipts, asking for help on her taxes. Although he has trained her to forgo the shoebox system, he has been a constant supporter ever since. Paul is a volleyball player and the proud owner of six medals. He has been married to Sports Illustrated swimsuit model, Sharon, for thirty years.
Dr. Alice Rudnick received her medical degree at UC Davis and is in private practice as a psychiatrist in Los Angeles. Alice is married to Joseph Rudnick who is Dean of Physical Sciences at UCLA. Alice and Joe have three sons, Abe, Doron and Jeremy. Abe and Jeremy joined their parents and traveled the jungle rivers in Nepal by raft in 2006. Alice is active in financial planning and will support IWCS with direction on our donor investments. The Rudnicks met Cathy Griffin and Peter Byrne as neighbors in Mandeville Canyon where they reside.